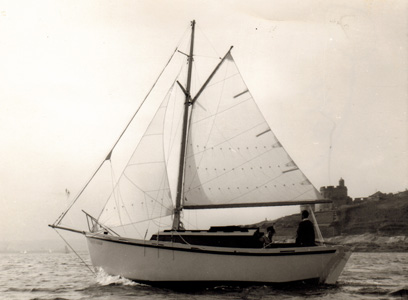 LOA
7.54m (+ Bowsprit 0.76m)
24'9″ (+ Bowsprit 2'6″)
LWL
5.84m
19'2″
Beam
2.74m
9'0″
Draught
0.915m
3'0″
Displacement
2.0 tonnes.
Ballast
1800lbs.
770kg
Headroom
6'0″
Sail Areas
Main: 14.87m2 | 160ft2
Jib: 6.32m2 | 68ft2
Staysail: 6.04m2 | 65ft2
Topsail: 3.71m2 | 40ft2
Genoa: 8.36m2 | 90ft2
White Squaw is a tremendously powerful, heavily built, single chine, gaff sloop or cutter complete with topsail, featuring central ballast stub and plate bilge keels. Two or four berth arrangements are available. Inboard diesel engines can be varied in the 10 – 20 hp range. Heavy scantlings call for some building experience, although drawings are fully detailed. Simplified gaff sailplan avail- able.
White Squaw's have been constructed as far apart as Australia and the U.S.A., and many builders have discovered the simplicity of the single chine method of construction for the hull and the one piece superstructure; the side shell extending past the deck- ing producing a small bulwark only slightly complicates the issue. The shell is moderately heavy in construction and lamination has been kept to a minimum used only where really necessary for strength.