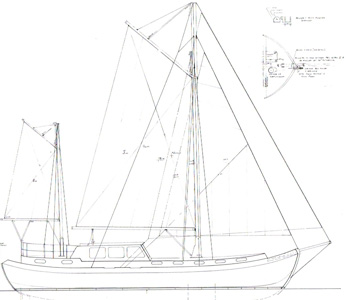 LOA
16.90m
55'6″
LWL
15.00m
49'3″
Beam
4.13m
13'7"
Draught
1.0 & 1.5m
3'3″ & 5'0″ Keel raised and lowered
Displacement
30.0tonnes
SailArea
108.1 m2
1163sq.ft
The Huffler 56 has been developed from the successful Huffler 35 and 40 which were introduced at the London International Boat Show in 1992. With draft of just over one metre and beam of 4 metres, the Huffler 56 is ideal to cruise the waterways of mainland Europe, Ireland and some of the rivers and canals of the U.K
Fully seaworthy, to category C and B of the E.C. Recreational Craft Directive (RCD) she can venture further afield as a seagoing motor yacht or motor sailing yacht.
The accommodation is huge for a boat of this size. There is a large stateroom aft with full en-suite; a large wheelhouse/saloon with lounge/dining table, spacious sundeck with second steering position and second outside lounge/dining position under sun awning. Further forward is a spacious well equipped galley with designer features. At the bow is a second double cabin with en-suite. This leaves a large area amidships that can be further developed as extra accommodation. For example allowing for work/utility room, a third double cabin or whatever is required for the individual customer.
Power is by 135 horse power 6 cylinder diesel engine, with 240v generator to run such items as washing machine and air conditioning (if required).
The quality and strength in the construction of the hull, and the attention to detail and choice of equipment in the fitting out, make the Huffler 56 ideal for serious long term live aboard cruising both at sea and in and. A true, well found steel motor yacht from a builder with a track record second to none. Environmental concerns are addressed by us ensuring that all timber and plywoods used in the construction are from managed and renewable sources. Fuel consumption on the Huffler 56 is minimised by proper hull design with good underwater lines. Most modern diesel engines are as fuel efficient as one another, so it is up to the hull designer, the builder and the helmsman to keep fuel costs down and avoid wasting fuel.
The good hull design of the Huffler 56 makes for reduced wash, so safeguarding the river and canal banks and the wildlife in general.
Number 1 currently fitting out at Peter Nicholls Steel Yachts.