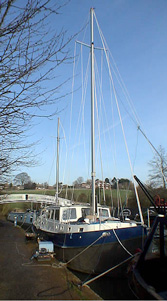 LOA
11.90m
39'1″
LWL
10.66m
35'0″
Beam
3.30m
10'10"
Draught
1.0 & 1.5m
3'3″ & 5'0″ Keel raised and lowered
Displacement
15.0tonnes
SailArea
55.5 m2
597sq.ft
The Huffler 40 is a true motor sailer in the old tradition combining the joy, excitement and grace of sailing with the comfort and security of a motor vessel. The Huffler, designed specifically for Peter Nicholls by the well respected yacht designer Tony Tucker, is part of a long line of quality steel boats from Peter Nicholls.
It differs from the 10.5 in having a gaff ketch rig.
Whether you are intending to explore the many and varied cruising grounds of the British Isles or wanting to venture further afield through, say, the extensive European waterway system to the Mediterranean and beyond, the Huffler does it all in style and comfort.
The Huffler's shallow draft with keel raised and self lowered aluminium masts allows exploration of the many and varied shallow creeks, rivers and canals of Europe.
The boat is robustly constructed from thicker than average steel plate which is protected by state of the art epoxy paint plan. The dual steering position gives the comfort of a wheelhouse in bad weather with the advantage of a safe open air steering position in a cockpit sunk into the poop deck, under an awning, when required.
Accommodation wise there are as many arrangements below decks as there are Hufflers sailing (two to date).
The 40ft motor sailer can be built to either RCD Category B – Offshore as either a motor vessel or motor sailer with a drop keelor Category A – Ocean with a fixed 1.5m draught keel.
The Huffler has proved to have good sailing performance, is a joy to handle under power and the sort of boat where a bow thruster really is an optional extra.
Introduced in 1992, the shallow draft version is at home inland but, also will take heavy weather offshore. The deeper keel which can go ocean is still suitable for inland passages through most of Europe but not, in the case of the deeper keel version, the smaller wide beam waterways of the UK. Masses of room for long term live aboard cruising with a variety of interior plans (chose your own as long as it is feasible).