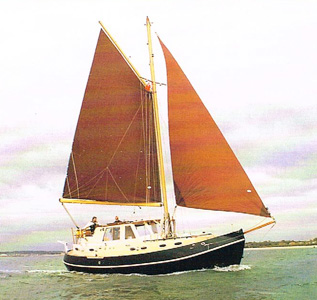 LOA
10.50m
34'5"
LWL
10.3m
30'6″
Beam
3.30m
10'10"
Draught
1.0 & 1.5m
3'3″ & 5'0″ Keel raised and lowered
Displacement
11.03tonnes
SailArea
53.53 m2
576sq.ft
The Huffler 10.5 is a true motor sailer in the old tradition combining the joy, excitement and grace of sailing with the comfort and security of a motor vessel. The Huffler, designed specifically for Peter Nicholls by the well respected yacht designer Tony Tucker, part of a long line of quality steel boats from Peter Nicholls. Whether you wish to explore the many and varied cruising grounds of the British Isles or intend to venture further afield through, say, the extensive European waterway system to the Mediterranean and beyond, the Huffler does it all in style and comfort.
The Huffler's shallow draft with keel raised and self lowered aluminium mast allows exploration of the many and varied shallow creeks, rivers and canals of Europe. The boat is robustly constructed from thicker than average steel plate which is protected by a state of the art epoxy paint plan.
The dual steering position gives the comfort of a wheelhouse in bad weather with the advantage of an open air steering position on a sun deck, under an awning, when required. Accommodation wise there are as many arrangements below decks as there are Hufflers sailing (six to date).
At sea, the Huffler's seakindly hull shape provides an easy motion in all weathers which makes her popular with all crew members. Her sailing performance is surprising considering her shallow draft and low aspect rig. Offwind she eats up the distances with an easy motion and performs moderately well to windward for a boat of her type. Under sail, easy and safe handling has been the priority using a self tacking, furling headsail with a slab reefing mainsail which drops into lazy jacks. Innovation has not been neglected; aluminium alloy spars are used to keep weight low, with a specially designed and built stainless steel gaff carriage. Mast set in a fabricated tabernacle for easy lowering using onboard equipment.
Despite her seemingly bluff bow, the HUFFLER does not slam into waves under sail or power, but lifts and rides over the crest with an easy motion. She is not designed and built just for smooth waters, she is a true seagoing ship.
Diesel engines in the 50-60 hp range are standard, driving through an hydraulic reduction system to a large diameter propeller. This arrangement gives the generous thrust required when driving into short head seas. In the sailing version, the main engine is set to one side of the centreboard casing allowing a 220v AC generator to be fitted on the opposite side if required. The hydrofoil shaped rudder provides superb manoeuvrability.
Down below, the Huffler is a true home from home designed with serious long range cruising in mind to a level associated with much larger vessels.
The standard accommodation features two large self contained sleeping-cum-day cabins with spacious toilet and shower facilities en-suite. In line with possible future legislation, toilets can be flushed over the side or into the high capacity stainless steel holding tank. Galley slaves will be at home in the well appointed galley whether preparing quick snack or a 3 course meal. Electric cooking is a viable alternative using a 220v AC generator.
Huffler 35 from Simon Cox on Vimeo.