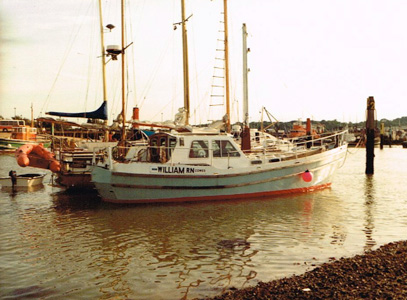 LOA
11.11m
36'5″
LWL
9.15m
30'0″
Beam
3.86m
12'8″
Draught
1.32m & 1.5m
4'4″ & 5'0″
Displacement
9 tonnes.
Ballast
3.l5tonnes lead
Sail Area work'g
49.45m2 532ft2 Maximum 70.7m2 761ft2
Headroom
1.86m
6'1″
Best described as a "proper motor sailer" with formal wheelhouse and big engine. The emphasis is more towards power than sail; but, sai1 she does; even to windward. Caleo 36. No. 1 has completed some 3000 miles of cruising to date, under power and sail, mostly single handed. The emphasis is on good accommodation for two-plus-two in comfort, plus the usual appointments.
Tankage is extensive to give good range from a substantial engine power. Engines 60-80 horsepower recommended. Twin diesel tanks located in the boxkeel structure together with bilge and shower sumps. Diesel tanks 510litres (114g) and 590litres (130g) giving a cruising range under power alone of some 600+ Nmiles.
Wing water tanks in the engine room totaling 1000 litres (220g).
Hull shape is multi-chine set over a choice of long keel or long shallow keel with asymmetric bilge keels to give lower draught and the ability to stand upright when drying out. The rudder is hung on the aft end of either type keel.