Survey and Consultation
Over the past 30 + years surveys have been carried out by Tony Tucker on almost all accepted boat construction materials including GRP/FRP, steel, iron, timber, plywood, aluminium and ferro-cement in many parts of the world.
Located close to Luton, Heathrow and not too far from Stansted airports economic flights to many parts of Europe are possible.
Tony Tucker of Tucker Designs has a reputation for specialist knowledge of timber, steel and ferro-cement boats.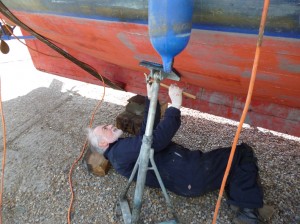 Tony surveying the bottom of a Dunkirk Little Ship
Most surveys will employ a variety of tools including non-destructive methods, e.g. Ultra-sonic thickness testing; moisture absorption content in laminates; etc. where appropriate.
The types of surveys offered;
• CONDITION: Or pre-purchase surveys cover the vessel as a whole, usually during "sale and purchase" but also normal for insurance purposes.
• Full reports provide information on the condition of the hull shell, deck and superstructure and their component and support structures, engineering installations, gas, electric's, plumbing and rig assessments. All subject to accessibility.
• DAMAGE: Assessment of the damage and the implications on unseen parts or equipment. Repair schedules can be provided where necessary.
• VALUATION: There are several reasons why a valuation is required. Insurance, finance house, divorce, probate, etc.. The report covers a full description of the boat and it's relevant contents; a visual examination of the structure; with an assessment in the current market place for the particular type.

• VALUATIONS have been carried out on many different types of vessels from narrow boats to offshore racing yachts to purpose built coastal wind farm erection vessels.
RACING YACHTS TO THE BARGE THAT ASSISTED WITH THE RAISING OF THE COSTA CONCORDIA
• CERTIFICATION: Accredited surveyors for MCA, sail & power Charter codes, Work boat and NDP codes, Canal & River Trust/Environment Agency Boat Safety Scheme.
• EXPERT WITNESS: Tony Tucker has appeared in Coroners, Magistrates and Civil Courts as expert witness in legal action. Reports prepared.